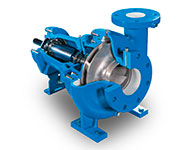 Centrifugal pumps basically consist of a stationary pump casing and an impeller mounted on a rotating shaft. The pump casing provides a pressure boundary for the pump and contains channels to properly direct the suction and discharge flow.
The pump casing has suction and discharge penetrations for the main flow path of the pump and normally has small drain and vent fittings to remove gases trapped in the pump casing or to drain the pump casing for maintenance.
If you'd like to receive a quote, or just get more information contact us at (844) 800-PUMP!
Centrifugal Pumps In-Stock:
Call (844) 800-7867 or sales@generalpumpandmachinery.com for price and availability!


| Manufacturer | Model | Qty | Port | In | Out | Material | Description (External) |
| --- | --- | --- | --- | --- | --- | --- | --- |
| Alfa Laval | 9634084711 | 1 | Sanitary | 4.0 | 3.0 | Stainless Steel | CODE: IKHP45M175S4FN28AAN, PACKAGED W/ 30HP MOTOR @ 3560 RPM, 208-230/460V, 75-68.2-34.1AMP, 60HZ, 3PH, 286TSC FRAME |
| Please Call | 6X4X10 | 1 | Flanged | 6.0 | 4.0 | Stainless Steel | MTL: STAINLESS STEEL, IMPELLER: 10.75" |
| ITT Allis Chambers | 100 6X6X13L | 1 | Flanged | 6.0 | 6.0 | | MODEL: 100, TYPE: 2000, SIZE: 6X6X13L, IMPELLER: 11.90" |
| ITT Allis Chambers | Type 2000 Model 150 8X6X9.5 | 1 | Flanged | 8.0 | 6.0 | | PACKAGED W/ 30HP MOTOR @ 1765 RPM, 230/460V, 3PH, 60HZ, 286T FRAME. |
| ITT Allis Chambers | 391 8X6X11 | 1 | Flanged | 6.0 | 6.0 | | MODEL: 2000-391, TYPE: 2000, SIZE: 8X6X11, IMPELLER: 11" |
| ITT Allis Chambers | 3A00-CBBB | 1 | Threaded | | | | |
| Ampco | 1 1/2X 1 1/4 ZC2 | 1 | Flanged | 1.3 | 1.5 | Stainless Steel | MOTOR: 3HP @3450RPM: 3PH: 60HZ: 230-460V: 7.6-3.8AMP: 154 JM FR |
| Ampco | 1 1/2 X 1 KC2 | 1 | Threaded | 1.3 | 1.8 | | IMPELLER 4-7/8", WITH 3HP MOTOR @ 2450RPM |
| Ampco | 2.5X2 ZC2 | 3 | Flanged | 2.5 | 2.0 | Stainless Steel | PACKAGED W/ 10HP MOTOR @ 3500 RPM, IMP: 6.25" |
| Ampco | 2 1/2X2 ZC2 | 1 | Flanged | 2.0 | 2.5 | | NO MOTOR: UNASSEMBLED |
| Ampco | 3X2-1/2 ZCH2 | 1 | Flanged | 3.0 | 2.5 | STAINLESS STEEL | WITH 15HP MOTOR AT 3500 RPM, IMP: 6.5" |
| Ampco | 3x2.5 ZCH2 | 1 | Flanged | 3.0 | 2.5 | Stainless Steel | PACKAGED W/ 15HP MOTOR @ 3500 RPM, IMP: 6.50" |
| Ampco | 2.5X2DC2 | 2 | Sanitary | 2.5 | 2.0 | Stainless Steel | 6.5" IMPELLER, W/3HP MOTOR @ 1735 RPM |
| Ampco | 2.5X2MC2 | 1 | Sanitary | 2.5 | 2.0 | Stainless Steel | W/2HP MOTOR @1725 RPM |
| Ampco | 4X3 ZCH2 | 1 | Flanged | 4.0 | 3.0 | Stainless Steel | 6-5/8 INCH IMPELLER, 3500 RPM, WITH 25HP MOTOR @ 3525RPM, 230/460V, 62/31 AMP, 60HZ, 3PH, 284JM FRAME |
| Ampco | 4X3ZC2 | 1 | Flanged | 4.0 | 3.0 | | PACKAGED W/ 10HP MOTOR @ 3500 RPM, 208-230/460V, 26-24/12AMP, 3PH, 60HZ, 215JM FRAME, IMPELLER: 5.25" |
| Ampco | 4X3ZCH2 | 1 | Flanged | 3.0 | 4.0 | | IMPELLER: 7" 3500RPM |
| Ampco | AC216MDG56C-S | 1 | Sanitary | 2.0 | 1.5 | | WITH 3/4HP MOTOR AT 1725 RPM |
| Ansimag | 1518-CC | 1 | Flanged | 2.0 | 1.0 | Non-Metallic | W/15HP MOTOR @ 3540RPM, 245T FRAME |
| Ansimag | KM2156-CAA | 1 | Flanged | | | Non-Metallic | SERIES# KMA232111, IMPELLER# 4125, W/ 1HP @1725RPM ON BASEPLATE, Config: Close Coupled |
| Ansimag | AAK-CA | 1 | Flanged | 1.5 | 1.0 | Non-Metallic | W/3HP MOTOR @ 1725RPM, 143TC FRAME |
| Ansimag | K1516-CA | 1 | Flanged | | | | 5.625" IMPELLER, CODE#: C02AK23111 |
| Ansimag | K1516-WA | 1 | Flanged | | | | 4.5" IMPELLER, CODE#: W00AK12111, PRESSURE: 285PSI |
| Ansimag | K15160A | 1 | Flanged | | | Non-Metallic | 5.75"IMP W/1HP @ 1725RPM |
| Ansimag | K1518-CB | 2 | Flanged | | | Non-Metallic | 7" IMPELLER, 285 PSI, W/15HP MOTOR, Config: Close Coupled |
| Ansimag | K1518 | 1 | Flanged | | | Non-Metallic | 7" IMPELLER, 285 PSI, MF Part# K+1518W00BK12111 |
| Ansimag | K1518-WA | 1 | Flanged | | | Non-Metallic | 6.60" IMPELLER, Config: Wet End |
| Ansimag | K1518-WB | 1 | Flanged | | | Non-Metallic | 7" IMPELLER CODE# KWB05955, Config: Wet End |
| Ansimag | K3158-CA | 2 | Flanged | 3.0 | 1.5 | Non-Metallic | W/7.5HP MOTOR @ 3500RPM, 215TC FRAME 3PHASE, Config: Close Coupled |
| Ansimag | K3158CC | 1 | Flanged | | | | WITH 25HP MOTOR AT 3520 RPM |
| Ansimag | K326-CB | 1 | Flanged | 3.5 | 2.0 | Non-Metallic | Config: Close Coupled |
| Ansimag | K326-CB | 1 | Flanged | | | Non-Metallic | 6.45" IMPELLER, 285 PSI, W/15HP MOTOR |
| Ansimag | K326 | 1 | Flanged | | | Non-Metallic | MF Part# K+326C03BK42111-6.405 |
| Ansimag | K326 | 2 | Flanged | 3.0 | 2.0 | Non-Metallic | W/BALDOR 7.5HP MOTOR @ 3525RPM, 213T FRAME, MF Part# K+326C03BK12111 |
| Ansimag | KM1515-W | 1 | Flanged | | | Non-Metallic | 3.5" IMPELLER, Config: Wet End |
| Ansimag | Please call | 1 | | | | | |
| American-Marsh Pump | 4X4-10 SST | 1 | Flanged | 4.0 | 4.0 | Cast Iron | |
| AMT | Please call | 7 | Threaded | | | Stainless Steel | |
| Aurora | 431B BF 1.5X3X9 | 1 | Flanged | 3.0 | 1.5 | | |
| AURORA | 411 BF 4X5X11A | 1 | Flanged | 5.0 | 4.0 | | SPLIT CASE CENTRIFUGAL PUMP |
| Aurora | 421 BF 2.5X3X12A | 1 | Flanged | 3.0 | 2.5 | | |
| Aurora | 344A BF 1.25X1.5X7 | 1 | Threaded | 1.5 | 1.3 | | 7" IMPELLER |
| AURORA | CT914-152-14 | 1 | Flanged | 3.0 | 1.5 | | |
| Aurora | G6TS116A BF | 1 | Flanged | 3.0 | 2.5 | | |
| APV | W+110/130 | 1 | Sanitary | | | Stainless Steel | 9.8" IMPELLER |
| APV | R1R | 1 | Threaded | 1.0 | 1.0 | | |
| APV | R2BS | 1 | Threaded | 1.0 | 1.0 | | |
| APV | R2R | 1 | Threaded | 1.0 | 1.0 | | |
| APV | R3R | 1 | Sanitary | 1.5 | 1.5 | | |
| APV | W+70/40 | 2 | Sanitary | 2.5 | 1.5 | Stainless Steel | W/ 20 HP MOTOR AT 3600 RPM CLOSE COUPLED MOTOR |
| APV | W+70/40 | 1 | Sanitary | 2.0 | 2.3 | | MOTOR: 2HP @ 3520RPM |
| ALLWEILER | NS65-200/02 | 1 | Flanged | 2.5 | 2.5 | | |
| Allweiler | USNH-80ER36 | 1 | Flanged | 3.0 | 1.5 | | |
| BUSCH | RC0040-A005-1101 | 2 | Threaded | | | | PACKAGED W/ 2HP MOTOR @ 1730RPM, DISPLACEMENT: 28CFM |
| Chicago | SA4 | 1 | Threaded | | | | |
| CRANE | 6G1AP-J2J2 | 1 | Flanged | 8.0 | 6.0 | | IMPELLER: 11" |
| Caster | MPA414S2F6 | 1 | Flanged | | | | WITH .75 HP MOTOR @ 3450RPM |
| Dean Brother | 151480 RJ | 1 | Flanged | 1.5 | 1.5 | | W/2HP MOTOR @ 3450 RPM |
| Dean Brother | PH-231 | 1 | Flanged | 4.0 | 3.0 | | 8.5" IMPELLER |
| Dean Brother | R5144 | 1 | Flanged | 3.0 | 1.5 | | 8.5" IMPELLER |
| Dean Brother | R5176 | 1 | Flanged | 3.0 | 1.5 | | 13.5" IMPELLER |
| Dean Brother | R5176 | 1 | Flanged | 3.0 | 2.0 | | 13.5" IMPELLER |
| Discflo | 2015-8 | 2 | Flanged | | | Stainless Steel | 2HHD DISCPAC, W/10HP MOTOR |
| DISCFLO | 2015-8 | 1 | Flanged | 2.0 | 2.0 | | DISCPAC: 2HHD 7.25 |
| DISCFLO | 302-10 | 1 | Flanged | 3.0 | 2.0 | | WITH 10HP AT 1760 RPM, DISCPAC: 8.5-1HHD DI, SEAL #: 1.75RATNSFLO |
| DICKOW | P-267 | 1 | Flanged | 1.5 | 1.0 | | PACKAGED W/ 7.5HP @ 3550RPM |
| DURCO | 1-3/4X1 | 1 | Flanged | 1.8 | 1.0 | Stainless Steel | |
| DURCO | Please call | 1 | Flanged | 2.0 | 3.0 | | |
| DURCO | 2K2X15US-10A/94 | 1 | Flanged | 2.0 | 1.5 | STAINLESS STEEL | 9.5" IMPELLER |
| Eco | C10A-OS-VD | 1 | Threaded | 1.0 | 0.5 | Stainless Steel | |
| Fristan | FPX712-110 | 1 | Sanitary | 0.5 | 0.5 | Stainless Steel | W/2HP @ 3460 RPM |
| Finnish-Thompson | KC10PCVN385C02 | 1 | Threaded | | | | MAX PRESSURE: 60PSI, W/ 1HP MOTOR @ 3450RPM |
| Fybroc | 1600 4X6X13 | 1 | Flanged | 6.0 | 4.0 | | |
| Fybroc | FY1.5X3-6 | 1 | Flanged | | | Fiberglass | |
| Grundfos | B-9350 | 1 | Flanged | 2.5 | 2.5 | Cast Iron | TYPE: CR8-80-U-G-A-BUBV, W/ 7.5HP, 208-230/460V, 3PH, 213TC, |
| Grundfos | CR2-120 U-G-A-AUUE | 1 | Flanged | | | | W/3HP MOTOR @3450, Model: D 400060 72E P2 0220 US 1270 |
| Goulds | SST 1.25X2-6 | 1 | Flanged | 2.0 | 1.3 | | CATALOG# 4ST15035, 5 9/16" IMPELLER, W/5HP MOTOR @ 3450 RPM |
| Goulds | 3196 | 1 | Flanged | 1.5 | 3.0 | | SIZE: 1.5X3-8: IMP: 8": STD# AB: 1750RPM |
| Goulds | 3196 | 1 | Flanged | 2.0 | 1.0 | | (MAX IMP: 8") |
| Goulds | 3196 | 1 | Flanged | 3.0 | 2.0 | STAINLESS STEEL | 2X3-10, 6.5" IMPELLER, REPAINTED, INSPECTED |
| Goulds | 3196 | 1 | Flanged | 4.0 | 3.0 | | MTX SERIES |
| Goulds | 3196 | 1 | Flanged | 4.0 | 3.0 | | MX SERIES |
| Goulds | 3196 | 1 | Flanged | 2.0 | 3.3 | Ductile Iron | SIZE: 2X3-8: IMP: 6.25": STD# A60: 3560RPM |
| Goulds | 3196 | 1 | Other | | | | SIZE: 1X1.5-8: IMP: 7.5": STD#: AA: 1750RPM: MTL: 31655 |
| Goulds | 3196 | 1 | Flanged | 1.0 | 1.8 | Ductile Iron | SIZE: 1.50X3-8: IMP: 7.62": STD#: AB: 3500RPM |
| Goulds | 3196 | 1 | Flanged | 2.0 | 3.0 | | SIZE: 2X3-8: IMP: 7.12" MOTOR: NA HP |
| Goulds | 3298 | 1 | Flanged | 3.0 | 2.0 | | W/20HP MOTOR @ 6525 RPM, SIZE: 2X3-6, MATERIAL CONSTRUCTION: TEFZEL |
| Goulds | 3298 | 1 | Flanged | | | Non-Metallic | 1X1.5-6 |
| Goulds | 3655 | 2 | Flanged | 1.5 | 1.3 | Cast Iron | SIZE: 1.25x1.50x8, IMP: 7.25 |
| Goulds | 3656 | 1 | Flanged | 4.0 | 3.0 | Cast Iron | W/ 10HP MOTOR @ 1750 RPM, INDEX: 12BF2M2A0 |
| Goulds | 3656 | 3 | Threaded | 2.0 | 1.5 | Cast Iron | IMP:4.75" (MAX IMP:6") INDEX:3BF1J5D1 W/5HP @ 3450 RPM |
| Goulds | 3657 2X3-7 | 1 | Flanged | 3.5 | 2.0 | | INDEX: 4SSLL500 L94, SIZE: 2X3-7, IMPELLER: 5.75" |
| Goulds | 3196 2X3-10 | 1 | Flanged | 3.0 | 2.0 | Stainless 316 | IMPELLER: 6.50", 2X3-10 |
| Goulds | G&L FG4ST111 | 1 | Flanged | 2.0 | 1.3 | Stainless Steel | 1.25X2-6 6.5" IMPELLER |
| Goulds | SSV | 1 | Flanged | 2.0 | 2.0 | | |
| Gorman Rupp | T2A60-B/F | 1 | Flanged | | | | SELF-PRIMING |
| Gusher | 1.25X1.5-75EL-24-CDH-BDF | 1 | Threaded | | | Stainless Steel | SUMP PUMP |
| Gusher | P3X4-10SEH-C-A | 1 | Flanged | 4.0 | 3.0 | | 7.5" iMPELLER |
| Gusher | P3X4-10SEH-C-A | 1 | Flanged | 4.0 | 3.0 | | |
| Gusher | SP3X3-10SEH-C-A | 1 | Threaded | 3.0 | 3.0 | | |
| Gusher | 1.5X2-10SEL-C-C | 2 | Threaded | 2.0 | 1.5 | Cast Iron | 7.5" IMPELLER |
| Gusher | P1.5X2-7SEH-C-A | 1 | Flanged | 2.0 | 1.5 | | 6" IMPELLER: 25016-CI-6.00 |
| Gusher | P1.25X1.5-7SEH-C-B | 1 | Threaded | 1.3 | 1.3 | | IMPELLER# 25015-SS-5.875 |
| Gusher | GK-3X4-10SE5-CHM-A | 1 | Flanged | 4.0 | 3.0 | | |
| Gusher | GK-2X2-5-10SES-C-4-CP | 1 | Flanged | 2.5 | 2.0 | | IMPELLER: 7.5" |
| Gusher | P4X5-7SEH-C-4A | 1 | Flanged | 5.0 | 4.0 | | 6.875" IMPELLER: 25020-CI-6.875 |
| Hydromatic | 30MP | 1 | Flanged | 3.0 | 3.0 | | |
| Ingersoll-Dresser | D824-3X1.5X8 | 1 | Flanged | 3.0 | 1.5 | | 8" IMPELLER, W/3HP MOTOR @1760 RPM ON BASE PLATE |
| Innomag | TBMAG-A 1.5X1X6 | 1 | Flanged | | | Non-Metallic | 4.5" IMPELLER |
| Innomag | TBMAG-A 1.5X1X6 | 1 | Flanged | | | Non-Metallic | 4.5" IMPELLER, 1HP @ 1755RPM, BASEPLATE |
| Innomag | TBMAG-A 1.5X1X6 | 1 | Flanged | | | Non-Metallic | 4.5" IMPELLER |
| Innomag | TBMAG-B 1.5X1X8 | 1 | Flanged | 1.0 | 1.5 | Non-Metallic | |
| Innomag | TB MAGB1 | 1 | Flanged | 1.5 | 1.0 | | W/3HP MOTOR @ 1725 RPM |
| Ingersoll-Rand | SMP1000 1.5X3.5 3-S | 1 | Threaded | 1.5 | 1.5 | | 3.5" IMPELLER, W/1HP MOTOR @ 3450 RPM |
| Ingersoll-Rand | SMP1000 1.25X4 2-4-S | 1 | Threaded | 1.3 | 1.3 | | 4" IMPELLER, W/2HP MOTOR @ 3450 RPM |
| Ingersoll-Rand | SMP2000 1.5X5 3-4-S | 2 | Threaded | 5.0 | 1.5 | | W/3HP MOTOR @ 3475 RPM |
| Iwaki | F400AVG-E | 1 | Threaded | | | | WITH .75 HP MOTOR @ 3450RPM, IMPELLER: 3.43IN |
| Iwaki | F400AVG-E | 1 | Threaded | | | | WITH .75 HP MOTOR @ 3450RPM |
| Iwaki | 400CV6-D | 1 | Threaded | | | | IMPELLER: 3.35" |
| Iwaki | 40LRV-E | 1 | Threaded | | | | WITH 1.5 HP MOTOR @ 3450RPM, IMPELLER: 4.3IN |
| Iwaki | MDM-2526PKK07 | 1 | Flanged | | | Non-Metallic | 5.125" IMPELLER |
| Iwaki | Please call | 1 | Threaded | | | | |
| Iwaki | Please call | 1 | Threaded | | | | WITH .50 HP MOTOR @ 3450RPM |
| Karbate | A40K8/SIC | 1 | | | | | |
| Kontro | HRANGE HC2DM | 1 | Flanged | | | | 6.625" IMPELLER, 3500 RPM, W/10HP MOTOR |
| Labour | TYPE D 15W | 1 | Flanged | 2.5 | 2.5 | Stainless Steel | |
| Labour | LV 2X1-9-1/8 | 1 | Flanged | 2.0 | 1.0 | Stainless 316 | TYPE: LV, SIZE: 2X1-9 1/8, AVS NO: A05, BASE: BAS-C-1 |
| Liquflo | Please call | 1 | Threaded | | | | |
| Multi-Duti | Please call | 1 | Threaded | | | Plastic | W/1/3HP MOTOR @ 3450 RPM |
| Magnatex | MP221-N40N-180TC | 3 | Flanged | 0.8 | 1.0 | Stainless 316 | 5.25"IMP 1X3/4X6 W/ 3HP @ 3450RPM |
| Peerless | 2X1X8.5 | 1 | Flanged | 2.0 | 1.0 | STAINLESS STEEL | TYPE: CENTERLINE "E", SIZE: 2X1-8.5, RADIAL BEARING:ND7609, THRUST BEARING: ND47609V, ITEM NUMBER: 21-135, RPM: 3500 |
| Peerless | 610A | 1 | Threaded | 2.5 | 1.5 | | 5.56" IMPELLER, IMP# 2683848, STYLE: M, DESIGN: DB |
| Peerless | Please call | 1 | Flanged | 4.5 | 3.0 | [None] | |
| Paco | 04-15955130002-1741 | 1 | Threaded | | | Bronze | 8.75" IMPELLER |
| Paco | 10 25707 | 1 | Flanged | | | | 6" IMPELLER, BRONZE FITTED |
| Paco | 29-40127-240561 | 1 | Flanged | 5.0 | 4.0 | CAST IRON | |
| Price | 025498 | 1 | Threaded | | | | W/3HP MOTOR @ 3450 RPM, BOM: 798-412-E216F-2195 |
| PRICE | 2MS50SS-412-21211-PEO | 1 | Threaded | 0.8 | 1.0 | | BOM: 692-412-W211-0000: 1HP MOTOR @ 3450RPM |
| Price | CD100PSS-450-21211-FM | 1 | Threaded | 1.5 | 1.0 | Stainless Steel | BOM: 301-450-W211-0000 |
| PRICE | CL150SS-488-21211Y-G | 1 | Threaded | 2.5 | 1.5 | Stainless Steel | BOM: F93-488-W211-0000 |
| Price | 2406003 | 1 | Threaded | 1.0 | 1.0 | Plastic | W/ .75HP @ 3450RPM 1PH, BOM: 701-600-S111-1317 |
| Price | A100 | 1 | Threaded | | | Stainless Steel | |
| Price | A100 | 1 | Threaded | | | Stainless Steel | W/3HP @ 3450 RPM, BOM/SPEC: 662-569-W211-0000, CONSTRUCTION: 56921211-PAO |
| Price | CD-100BF | 1 | Threaded | | | | WITH .50 HP MOTOR @ 1725RPM, FULL MODEL #: CD-100BF-494-6A111-50-18-3T6 |
| Price | CD100 | 1 | Threaded | | | Cast Iron BF | BOM/SPEC: D01-450-A111-0000, CONSTRUCTION: BF-450-6A111-PEO |
| Price | CD100 | 1 | Threaded | | | Cast Iron | BOM/SPEC: D02-362-N315-0000, CONSTRUCTION: AI-362-09315-PEO |
| Price | CD100 | 1 | Threaded | | | Stainless Steel | PUMP ONLY |
| Price | CD100 | 1 | Threaded | | | Stainless Steel | PUMP ONLY |
| Price | CD100 | 1 | Threaded | | | Stainless Steel | WITH POWER FRAME, CONSTRUCTION: SS-494-09-333-5478 |
| Price | CD100 | 1 | Threaded | | | Stainless Steel | W/2HP @ 3450 PRM 1PH, BOM/SPEC: 648-494-W211-1254, CONSTRUCTION: SS-494-21211-200-36-1T6 |
| Price | CD100 | 1 | Threaded | | | Stainless Steel | W/ .33HP @1725 RPM, BOM/SPEC: 648-494-W211-12513, CONSTRUCTION: SS-494-21211-33-18-3T6 |
| Price | CD150 | 1 | Threaded | | | Bronze | W/ 3HP MOTOR AT 3600RPM, IMP:494, SEAL: 6A111, HP: 3, RPM: 3600, BOM: E10-494-A111-1263 |
| Price | Please call | 1 | Threaded | 2.0 | 1.5 | | W/10HP MOTOR @ 3450 RPM |
| PRICE | Please call | 1 | Threaded | 1.8 | 2.3 | | |
| Price | Please call | 1 | Threaded | | | Stainless Steel | WITH POWER FRAME |
| Price | Please call | 1 | Threaded | | | | |
| Price | Please call | 1 | Threaded | | | | W/2HP MOTOR @ 3450 RPM |
| Price | Please call | 1 | Threaded | | | | |
| Price | Please call | 1 | Threaded | | | | |
| Price | Please call | 1 | Threaded | | | Stainless Steel | W/ 1/2HP MOTOR @ 1140 RPM |
| Price | 5MS50SS OB216F | 1 | Threaded | | | | W/3HP MOTOR @ 3450 RPM, BOM: 798-412-E216F-2195 |
| Price | SC-100 | 1 | Threaded | | | | |
| Price | SC100 | 1 | Threaded | | | | W/ .25HP MOTOR @ 1725RPM |
| Price | SC100 | 1 | Threaded | | | Stainless Steel | W/1.5HP @3450 RPM, BOM/SPEC: 613-400-W231D-1251, CONSTRUCTION: SS-400-21231D-150-36-3T6 |
| Price | SC100 | 1 | Threaded | | | Stainless Steel | 613-3-511-1249GE |
| Price | SC100 | 1 | Threaded | | | Stainless Steel | W/1.5HP @3450 RPM, BOM/SPEC: 613-494-N311-1651B, CONSTRUCTION: SS-494-09311-100-36-3T6 |
| Price | SP150 | 1 | Threaded | | | Stainless Steel | W/1HP @3450 RPM, BOM/SPEC: 680-425E-W211-1244BA, CONSTRUCTION: SS-42512-21211-100-36-3T6 |
| Price | XT100 | 1 | Threaded | | | Cast Iron BF | W/3HP @ 3450 RPM, BOM/SPEC: D38-575-W111-1380, CONSTRUCTION: BF-575-2111?-3T6 |
| Price | XT100 | 2 | Threaded | | | Stainless Steel | W/3HP @ 3450 RPM, BOM/SPEC: 608-550-W211-0000, CONSTRUCTION: SS-550-21211-PEO |
| Price | XT150 | 1 | Threaded | 2.5 | 1.5 | Cast Iron | W/5HP MOTOR @ 3450RPM, BOM: D18-598-W212-0000, CONSTRUCTION: AI-598-21212-PEO |
| RS Corcoran | 4000D 1.5X2.5 | 1 | Threaded | 2.5 | 1.5 | Stainless 316 | W/ 15HP MOTOR @ 3450RPM |
| Scot Pump | 19GNS | 2 | Threaded | | | Stainless Steel | 2X1.5-4.75" W/3HP @ 3500 RPM |
| Scot Pump | 52 | 1 | Threaded | | | Cast Iron | 2.5X2-6.50" W/10HP @ 3500 RPM |
| Sunflo | P1-BRB | 1 | Threaded | 2.0 | 1.5 | | P-1000 Series |
| Sunflo | P1-BRB | 1 | Threaded | 1.0 | 1.0 | | P-1000 Series |
| Sunflo | P1-DPB | 1 | Threaded | 1.5 | 1.0 | Stainless Steel | W/7.5HP MOTOR @ 3540 RPM, 3PH, 60HZ, 230/460V, STAINLESS STEEL IMPELLER |
| Sunflo | P1-DRC | 1 | Threaded | 1.0 | 1.0 | | P-1000 Series, w/7.5HP Motor @ 3510 RPM |
| Sunflo | P1-PRC | 1 | Threaded | 1.0 | 1.0 | | P-1000 Series, w/7.5HP Motor @ 2950 RPM |
| Sunflo | P2-CKR | 1 | Flanged | | | | |
| Sunflo | P2-DER | 2 | Threaded | 2.0 | 1.5 | | P-2000 Series Sunstrand |
| Sunflo | P2-DER | 1 | Threaded | 3.0 | 2.0 | | P-2000 Series Sunstrand |
| Sunflo | P2-ENP | 1 | Threaded | 3.0 | 2.0 | | P-2000 Series Sunstrand |
| Sunflo | P2-EPN | 1 | Threaded | | | | |
| Sunflo | P2-FFQ | 1 | Threaded | 2.0 | 1.5 | | P-2000 Series Sunstrand |
| Serfilco | P-42-0146 | 1 | Threaded | 2.0 | 1.5 | Plastic | PUMP ASSEMBLY ONLY |
| Serfilco | 52-8001 | 1 | Threaded | | | | |
| Summit | CC1.5X2-6 | 3 | Threaded | 2.0 | 1.5 | | 6" IMPELLER |
| Summit | CC2.5X3-8 | 1 | Flanged | 3.0 | 2.5 | | 8" IMPELLER |
| Summit | CC | 1 | Flanged | | | | |
| Sundyne | LMV-322 | 1 | Flanged | | | | W/ SUNDYNE GEAR BOX MOD:GB01AB01 INPUT RPM 2955 OUTPUT RPM 10344 W/YOUNG HEAT EXCHANGER MOD: SSF-201-HY1P, |
| Sundyne | LMV-806 | 1 | Flanged | | | Stainless Steel | RPM 3542, HYDRO 1200 PSIG, W/15HP MOTOR @ 3525 RPM |
| Sundyne | Please call | 1 | Threaded | 3.0 | 4.0 | | |
| Sundyne | Please call | 1 | Threaded | 2.5 | 2.0 | | P-2000 SERIES SUNDYNE |
| Sundyne | P-2BFK | 1 | Threaded | 3.0 | 1.5 | | PACKAGED WITH 50HP MOTOR |
| Sundyne | P2-CJO | 1 | Threaded | | | | P-2000 Series Sunstrand |
| Sundyne | P2-DHRZ | 1 | Flanged | | | | P-2000 Series Sunstrand, WITH 40HP MOTOR AT 3530RPM |
| Sundyne | P2-GFQ | 1 | Threaded | 2.0 | 1.5 | | P-2000 Series Sunstrand |
| Sundyne | P2-GKR | 1 | Flanged | 2.0 | 1.5 | Stainless Steel | SERIES: P-2000, WITH 75HP MOTOR @ 3600RPM, 230/460V, 164/82AMP, 60HZ, 3PHASE, 365TDZ FRAME |
| Tri-Clover | C216M-1954-29 | 1 | Sanitary | 2.0 | 1.5 | Stainless Steel | WITH 10HP MOTOR AT 3485 RPM |
| Tri-Clover | SP218MNG-4093-540 | 1 | Sanitary | 2.0 | 1.3 | Stainless Steel | PACKAGED ON BASE WITH 15HP MOTOR @ 3530 RPM, 3/60/460V |
| Tri-Clover | C216MD56T-S | 1 | Sanitary | | | Stainless Steel | PUMP ONLY |
| Tri-Clover | C114MDS6T-S-K-X | 1 | Sanitary | 1.3 | 1.3 | | 2HP MOTOR @ 3500RPM: ON STAINLESS CART WITH ALLEN BRADLEY TYPE 739: CAT # 509-AUD-1 |
| Tri-Clover | C218ME18T-C | 1 | Sanitary | 2.0 | 1.5 | | 8"IMP, UNPOLISHED CASING, CW ROTATION |
| Tri-Clover | C216MDG21T-S | 1 | Sanitary | 2.0 | 1.5 | | WITH 10HP MOTOR AT 3485 RPM |
| Tri-Clover | SP216MF-S | 1 | Sanitary | 2.0 | 1.5 | Stainless Steel | ON BASEPLATE WITH COUPLING GUARD |
| Tri-Flow | C328FDG18T-S | 1 | Flanged | 3.0 | 2.0 | | |
| Tri-Flow | C327MDG14T-S | 1 | Sanitary | 3.0 | 2.0 | | |
| Tri-Flow | C327MDG18T-S | 1 | Sanitary | 3.0 | 2.0 | | W/5HP MOTOR @ 3480 RPM |
| Tri-Flow | Please call | 1 | Sanitary | 3.8 | 2.0 | Stainless Steel | ID TAG HAS WORN OFF AND IS NO LONGER READABLE |
| Tri-Flow | SP216MH-S | 1 | Other | | | | W/3HP MOTOR @ 3505 RPM |
| Waukesha | 2065 | 1 | Sanitary | 2.0 | 2.0 | Stainless Steel | PACKAGED W/ 20HP MOTOR @ 3520 RPM, 230/460V, 45/22.5AMP, 60HZ, 3PH, 256JM FRAME |
| Waukesha | 2085 | 1 | Sanitary | 3.0 | 2.5 | Stainless Steel | PACKAGED W/ 20HP MOTOR @ 3525 RPM, 230/460V, 48/24AMP, 60HZ, 3PH, 256JM FRAME |
| Waukesha | C216 | 1 | Sanitary | 2.0 | 1.5 | | PACKAGED W/ 1HP @ 1725RPM, PND: 0297 |
| Waukesha | U2085 | 1 | Flanged | 2.5 | 1.5 | Stainless Steel | WITH 40HP MOTOR @ 3600RPM, 230/460V, 112/56AMP, 60HZ, 3PHASE, 326JM FRAME |