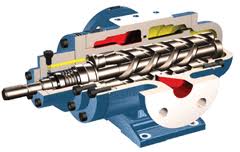 Screw pumps are rotary, positive displacement pumps that can have one or more screws to transfer high or low viscosity fluids along an axis. A classic example of screw pump is the Archimedes screw pump that is still used in irrigation and agricultural applications.
Although progressive cavity pumps can be referred to as single screw pumps, typically screw pumps have two or more inter-meshing screws rotating axially clockwise or counterclockwise.  Each screw thread is matched to carry a specific volume of fluid.  Like gear pumps, screw pumps may include a stationary screw with a rotating screw or screws.  Fluid is transferred through successive contact between the housing and the screw flights from one thread to the next.  Geometries can vary.  Screw pumps provide a specific volume with each cycle and can be dependable in metering applications.
Screw Pumps In-Stock:
Call (844) 800-7867 or sales@generalpumpandmachinery.com for price and availability!


| Manufacturer | Model | Qty | Ports | In | Out | Notes |
| --- | --- | --- | --- | --- | --- | --- |
| Imo | D3EBCSX-118D/358 | 1 | Flanged | 1.5 | 0.5 | PART# 3251/358 |
| Imo | C12DV-218 | 1 | Flanged | | | |
| Imo | C3EXC-162D/389 | 1 | Threaded | 2.5 | 2.0 | |
| Imo | AG3DB-400P | 2 | Flanged | | | PART# 3225/231A |
| Imo | 3DB250 | 2 | Flanged | 3.0 | 2.5 | |
| Imo | G3DBC-218 | 1 | Flanged | 3.0 | 2.0 | PART# 3212/152 |
| Imo | G3DBC-250 | 1 | Flanged | 4.0 | 2.5 | |
| Imo | G3DBC-275 | 1 | Flanged | 4.0 | 3.0 | |
| Imo | AG3DH-350J | 3 | Flanged | 5.0 | 4.0 | PART# 3222/193A |
| Imo | G3DKH-250 | 1 | Flanged | | | |
| Imo | PA3DNJ-337 | 1 | Flanged | | | PART# 3222/030-2 |
| Imo | PA3DNJ-337 | 1 | Flanged | | | PART# 3222/030 |
| Imo | GA3DYJ-156 | 1 | Threaded | 2.3 | 1.8 | |
| Imo | PG3DYJ-187 | 1 | Threaded | 2.5 | 1.8 | PART# 3210/088 |
| Imo | PG3DYJ-187 | 1 | Threaded | 3.0 | 2.0 | |
| Imo | C3EBC-118 | 1 | Threaded | | | |
| Imo | C3EBC-143 | 1 | Threaded | 2.3 | 1.8 | |
| Imo | D3EBC-87P | 1 | Threaded | | | |
| Imo | D3ENC-187 | 1 | Threaded | 2.8 | 2.3 | |
| Imo | D3ENC-187 | 1 | Flanged | 2.8 | 2.3 | PART# 3243/273 |
| Imo | C4UVC-137 | 2 | Threaded | 1.5 | 1.0 | PART# 3063-150 |
| Imo | H6UVC-118 | 1 | Flanged | 1.5 | 1.0 | |
| Imo | D6UVC-137 | 1 | Flanged | 1.5 | 1.5 | |
| Imo | H6UVC-156 | 1 | Other | | | |
| Imo | H6UVC-218 | 1 | Flanged | 3.0 | 3.0 | |
| Imo | A3D-218 | 1 | Flanged | | | |
| Imo | A3DB-156 | 2 | Threaded | 2.5 | 2.0 | PART# 3204/112 |
| Imo | A3DB-250 | 1 | Flanged | 3.0 | 2.5 | |
| Imo | A3DB-350 | 1 | Flanged | 4.0 | 5.5 | |
| Imo | A3DB250 | 1 | Flanged | 3.0 | 2.5 | |
| Imo | A3DB250 | 3 | Flanged | 3.0 | 2.5 | |
| Imo | A6DB-137 | 3 | Other | 2.0 | 1.3 | |
| Imo | A6DB-250 | 3 | Flanged | 3.0 | 2.5 | |
| Imo | C324ABFS-1878 | 1 | Flanged | 3.0 | 2.5 | CW ROTATION |
| Imo | D3CBCS-160 | 1 | Threaded | 2.0 | 1.5 | PART# 3252/750, FLANGE ADAPTER |
| Imo | K12DHZ-275E | 1 | Flanged | | | |
| Imo | PA3DNSJ-156 | 1 | Other | 2.0 | 1.5 | |
| Imo | C3EBC-118P | 1 | Threaded | | | |
| Imo | C3EBC-143J | 1 | Threaded | 2.3 | 1.8 | PART# 242/251, W/ 3/4HP 1140RPM, MOTOR BRACKET |
| Imo | C3EBC-200D | 1 | Threaded | 3.0 | 2.0 | PART# 3243/351 |
| Imo | D3EBCS-143 | 1 | Flanged | 2.0 | 1.5 | PART# 3252/650 |
| Imo | D3EBCS-162 | 1 | Flanged | 2.0 | 1.5 | PART# 3252/750, |
| Imo | C3EBCS-187 | 1 | Threaded | 3.0 | 2.0 | PART# 3253/250 |
| Imo | D3EBCS-95D | 1 | Threaded | | | PART# 3250/16 |
| Imo | D3EX87P230 | 1 | Threaded | | | PART# 3240/230 |
| Imo | G3B-218 (Call) | 1 | Flanged | 3.0 | 2.0 | PART# 3212/190 |
| Imo | G3DB-187 | 1 | Threaded | 2.8 | 1.5 | |
| Imo | G3DB-187 | 1 | Flanged | 2.5 | 1.5 | PART# 3210/150, |
| Imo | G3DB-218 | 2 | Flanged | | | |
| Imo | G3DH-187 | 1 | Threaded | 2.8 | 1.8 | PART# 3210/190 |
| Imo | G3DH-218 | 1 | Flanged | 3.0 | 2.0 | PART# 3212/190A |
| Imo | G3DH-250 | 1 | Flanged | 4.0 | 2.5 | PART# 3215/190 |
| Imo | D3EICS-143J | 1 | Threaded | 2.0 | 1.5 | PART# 3252/621 |
| Imo | D3EICS-143J | 1 | Flanged | 2.0 | 1.5 | PART# 3252/621 |
| Imo | AA3G/NVPMCA200SC | 1 | Flanged | 3.0 | 2.0 | |
| Imo | D3FTCS-162D | 1 | Flanged | 2.0 | 1.5 | |
| Imo | D3EX87PD231 | 3 | Threaded | | | PART# 3240-231 |