There are several variations of gear pumps as well as many manufacturers including Viking®. The simple gear pump shown in the illustration here, consists of two spur gears meshing together and revolving in opposite directions within a casing. Any liquid that fills the space bounded by two successive gear teeth and the case must follow along with the teeth as they revolve.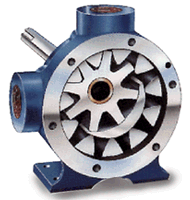 When the gear teeth mesh with the teeth of the other gear, the space between the teeth is reduced, and the entrapped liquid is forced out the pump discharge pipe. As the gears revolve and the teeth disengage, the space again opens on the suction side of the pump, trapping new quantities of liquid and carrying it around the pump case to the discharge. As liquid is carried away from the suction side, a lower pressure is created, which draws liquid in through the suction line.
There are no valves in the gear pump to cause friction losses as in the reciprocating pump. The high impeller velocities, with resultant friction losses, are not required as in the centrifugal pump. Therefore, the gear pump is well suited for handling viscous fluids such as fuel and lubricating oils.
Gear Pumps (Non-Viking®) In-Stock:
Call (844) 800-7867 or sales@generalpumpandmachinery.com for price and availability!

View Our Viking® Gear Pump Inventory Here »




| Manufacturer | Model | Qty | Port | In | Out | RV | Description |
| --- | --- | --- | --- | --- | --- | --- | --- |
| Brown & Sharp (BSM) | NO: 4 | 1 | Threaded | | | No | |
| Gorman Rupp | GMS21/2JJ3-B0003 | 1 | Threaded | 3.0 | 3.0 | Yes | |
| BLACKMER | NP40 | 1 | Flanged | 4.5 | 4.5 | No | IDH: 41K-2-A-A-1 |
| Brown & Sharp (BSM) | 1 | 1 | Threaded | | | Yes | FOOT MOUNTED |
| Brown & Sharp (BSM) | 13 | 1 | Threaded | | | No | FOOT MOUNTED |
| Brown & Sharp (BSM) | 1S | 2 | Threaded | | | Yes | FLANGE MOUNTED |
| Brown & Sharp (BSM) | 2 | 1 | Threaded | | | No | FLANGE MOUNTED |
| Brown & Sharp (BSM) | 2S | 3 | Threaded | | | No | FLANGE MOUNTED |
| Brown & Sharp (BSM) | 2S | 1 | Threaded | | | Yes | FLANGE MOUNTED |
| Brown & Sharp (BSM) | 3 | 1 | Threaded | | | No | FOOT MOUNTED |
| Brown & Sharp (BSM) | 3S | 2 | Threaded | | | No | FOOT MOUNTED |
| Brown & Sharp (BSM) | 3S | 1 | Threaded | | | Yes | FOOT MOUNTED |
| Brown & Sharp (BSM) | 3S | 1 | Threaded | | | Yes | FLANGE MOUNTED |
| Brown & Sharp (BSM) | 517 | 1 | Threaded | | | No | FLANGE MOUNTED |
| Brown & Sharp (BSM) | 55 | 1 | Threaded | | | No | FOOT MOUNTED |
| Eco | 35 GMC4-DDT-TTF | 1 | Threaded | 0.8 | 0.8 | No | MAG DRIVE |
| Eco | C10A-05-VD | 1 | Threaded | | | No | W/ 1HP MOTOR |
| Eco | G128CTTTT | 1 | Flanged | | | No | |
| Enviro | ES1-4-01029 | 1 | Flanged | 1.5 | 1.5 | Yes | |
| FLORIG | Please call | 1 | Threaded | | | No | |
| Flowserve | PRGP 1J1.5X1G-6 | 1 | Flanged | | | No | |
| Flowserve | 3GASM1D0 | 1 | Threaded | 1.0 | 1.0 | Yes | |
| Flowserve | 3GRWM.CI | 1 | Flanged | 3.0 | 3.0 | No | |
| Flowserve | PGRP 1J3X1.5G-6 | 1 | Flanged | | | No | |
| Flowserve | 4GAFMODO | 1 | Threaded | | | No | FLANGE MOUNTED |
| Flowserve | 4GASM1D0 | 1 | Threaded | | | Yes | |
| Flowserve | 5GASMODO | 2 | Threaded | | | No | |
| Flowserve | 6GASMODO | 1 | Threaded | | | No | |
| Flowserve | 6GAU | 1 | Threaded | | | Yes | REFERENCE #: R08780 |
| Flowserve | 7GASP0D0 | 1 | Threaded | | | No | |
| Flowserve | 2.5GRWWI.CI | 1 | Flanged | | | No | |
| Gorman Rupp | 20810-000 | 1 | Other | | | No | 115V. 50/60V, 1.1/1.3AMPS |
| Gorman Rupp | GHS4RS4-B | 1 | Flanged | 4.0 | 4.0 | Yes | |
| Ingersoll-Dresser | 0GAS1ODO | 1 | Threaded | | | No | REF: 4UR09 |
| Ingersoll-Dresser | 1.5GRMCI | 1 | Flanged | | | No | |
| Ingersoll-Dresser | 3GA | 1 | Threaded | | | Yes | |
| Ingersoll-Dresser | 3GAM | 2 | Threaded | | | No | |
| Ingersoll-Dresser | 3GAS01D0 | 1 | Threaded | | | Yes | |
| Ingersoll-Dresser | 3GASPODO | 1 | Threaded | | | No | REF: A242924 |
| Ingersoll-Dresser | 5GAPTM | 1 | Threaded | | | No | |
| Ingersoll-Dresser | 6GASPIDO | 1 | Threaded | | | Yes | REFERENCE #: A280122 |
| Ingersoll-Dresser | D1012 | 1 | Flanged | 4.0 | 3.0 | No | SIZE: 4x3x6 |
| Ingersoll-Rand | H-HC 4X3X8HC | 1 | Flanged | 4.0 | 3.0 | No | |
| Ingersoll-Rand | PD20A-AAP-AAA | 1 | Threaded | 2.5 | 2.0 | No | ARO SERIES DOUBLE AIR OPERATED DIAPHRAGM |
| Ingersoll-Rand | H-HC 1.5X1X6HC | 1 | Flanged | 1.5 | 1.0 | No | PACKAGED WITH 2HP, 3450RPM |
| Ingersoll-Rand | SMP1000 | 1 | Threaded | 1.3 | 0.8 | No | SIZE: 1 1/4X4 3/4-4-S, WITH 3/4HP MOTOR @ 3450RPM |
| Ingersoll-Rand | SMP1000 | 1 | Threaded | 1.3 | 1.3 | No | SIZE: 1-1/4X4 2-4-S, WITH 2HP MOTOR @ 3450RPM |
| Ingersoll-Rand | SMP1000 | 1 | Threaded | 1.3 | 1.3 | No | SIZE: 1-1/4X4 2-4-S, WITH 2HP MOTOR @ 3450RPM |
| Ingersoll-Rand | SMP1000 | 1 | Threaded | 1.3 | 1.3 | No | SIZE: 1 1/4X4 1 1/2-4, WITH 1 1/2HP MOTOR @ 3450RPM |
| Ingersoll-Rand | SMP1000 | 1 | Threaded | 1.3 | 1.5 | No | SIZE: 1 1/4X4 2-4-s WITH 2HP MOTOR @ 3450RPM |
| Ingersoll-Rand | SMP1000 | 1 | Threaded | 1.5 | 1.5 | No | SIZE: 1 1/4X4 2-4-S WITH 2HP MOTOR @ 3450RPM |
| Ingersoll-Rand | SMP1000 | 1 | Threaded | 1.5 | 1.5 | No | SIZE: 1 1/4 X4 1-4-S WITH 1HP MOTOR @ 3450RPM |
| Ingersoll-Rand | SMP1000 | 1 | Threaded | 1.5 | 1.5 | No | SIZE: 1 1/4X4 2-4-S: NO MOTOR |
| Ingersoll-Rand | SMP1000 | 1 | Threaded | 1.5 | 1.5 | No | SIZE: 1 1/4X4 2-4-S: NO MOTOR |
| Ingersoll-Rand | SMP1000 | 1 | Threaded | 1.5 | 1.5 | No | SIZE: 1 1/4X4 1/4/S: NO MOTOR |
| Ingersoll-Rand | SMP1000 | 1 | Threaded | 1.5 | 1.5 | No | SIZE: 1 1/4X4 2-4-S |
| Ingersoll-Rand | SMP2000 | 1 | Threaded | 1.3 | 1.8 | No | SIZE: 1 1/4X5 3-4-S |
| Liquiflo | 312FL1622112006KS-9D | 1 | Flanged | 1.5 | 1.5 | No | PACKAGED W/ 3HP MOTOR @ 1750 RPM, 208-230/460V/8.3-8.2/4.1A/3PH/60H/182TC FRAME ON BASEPLATE, GEAR: NORD 272 N180TC/ 2.17:1 RATIO/780 RPM/885 MAX LBS TORQUE IN |
| Liquiflo | 31FS6822L0 000 | 1 | Threaded | 0.3 | 0.3 | No | |
| Oberdorfer | N991-32 | 1 | Threaded | | | No | |
| Parker | H25AA2A | 1 | Threaded | 1.1 | 0.875 | No | ROTATION: CLOCKWISE, SEAL: BUNA-N |
| Roper | 27 | 2 | Threaded | 2.5 | 2.5 | No | FIGURE-2 F 75. SPEC-0 |
| Roper | 27 | 1 | Threaded | | | No | 1HP @ 1750RPM AND BASE PLATE |
| ROTAN | CD41EM | 1 | Threaded | 1.5 | 1.5 | No | CD41EM/344425/6031/230141 |
| Shertech | GMBN4VA | 1 | Threaded | 0.8 | 0.8 | yes | |
| Tri-Rotor | 20D | 1 | Threaded | | | No | FITTED: A1, ROTATION: COUNTER-CLOCKWISE (CCW), SHAFT: M |
| Tuthill | 2C1F-C | 1 | Threaded | | | No | |
| Tuthill | 6C2FAV-C | 1 | Threaded | | | Yes | |
| Worthington | 1.5GR | 1 | Threaded | 1.5 | 1.5 | No | |
| Worthington | 1.5GRM | 1 | Threaded | | | No | |
| Worthington | 1GAM | 1 | Threaded | | | No | |
| Worthington | 2.5GR | 1 | Flanged | 2.5 | 2.5 | No | |
| Worthington | 2GAUM | 1 | Threaded | | | Yes | |
| Worthington | 2GR | 1 | Flanged | | | No | |
| Worthington | 3GAU | 1 | Threaded | | | Yes | CONVERTED TO MECH SEAL |
| Worthington | 4GASM1D0 | 2 | Threaded | | | Yes | |
| Worthington | 4GAUM | 1 | Threaded | | | Yes | |
| Worthington | 4GRWM | 1 | Flanged | 4.0 | 4.0 | No | |
| Worthington | 5GAM | 1 | Threaded | | | No | |
| Worthington | 7GAM | 1 | Threaded | | | No | |
| Isochem | CMH2-CSNMLNS | 1 | Flanged | 1.5 | 1.0 | No | |
| Roper | Please call | 1 | Threaded | 3.0 | 3.0 | No | |
| Worthington | 4GA | 1 | Threaded | | | Yes | |
| Bean | M0610 | 1 | Other | | | No | PART # 3264113 |
| BLACKMER | MRLXW4B | 7 | Flanged | 4.0 | 4.0 | No | ID: 640AP0020000XP |
| BLACKMER | WRLXW4B | 1 | Flanged | 4.0 | 4.0 | No | ID: 640AP0020000XP |
| Brown & Sharp (BSM) | 1S | 1 | Threaded | | | Yes | W/ MOTOR BRACKET FLANGE MOUNTED |
| Brown & Sharp (BSM) | 2 | 1 | Threaded | | | Yes | FLANGE MOUNTED |
| Flowserve | 2GRJL.CI | 1 | Flanged | 2.0 | 2.0 | No | |
| Flowserve | Please call | 1 | Other | | | No | |
| Gorman Rupp | Please call | 1 | Flanged | 1.8 | 1.8 | No | SELF-PRIMING PUMP |
| Gorman Rupp | T3A3-B | 1 | Flanged | | | No | PACKAGED W/ 15HP MOTOR @ 1765RPM, SELF-PRIMING PUMP |
| Ingersoll-Dresser | 2.5 GR C | 1 | Flanged | 2.5 | 2.5 | No | |
| Ingersoll-Dresser | 2GAFM0D0 | 1 | Threaded | | | No | W/ 1.5HP @ 1140RPM |
| Ingersoll-Dresser | 2GAFTM | 1 | Threaded | | | No | W/ .75HP @ 1725RPM |
| Ingersoll-Dresser | 2GAUFTM | 1 | Threaded | | | Yes | W/ .75HP @ 1725RPM |
| Ingersoll-Dresser | 3GAM | 1 | Threaded | | | No | FLANGE MOUNTED |
| Ingersoll-Dresser | 4GAFM0D0 | 1 | Threaded | | | No | W/ 2HP @ 1725RPM |
| Ingersoll-Dresser | 4GAFM1D0 | 1 | Threaded | | | Yes | W/ 1.5HP @ 1725RPM |
| Ingersoll-Dresser | WDE-16 | 1 | Flanged | 3.0 | 1.5 | No | |
| Ingersoll-Rand | PD20A-AAS-HAA | 1 | Threaded | 2.5 | 2.0 | No | |
| Ingersoll-Rand | PD20A-ACP-GGG | 1 | Threaded | 1.5 | 1.0 | No | |
| Ingersoll-Rand | GTB2.5X1.5X9 | 1 | Flanged | 2.5 | 1.5 | No | 9" IMPELLER |
| Ingersoll-Rand | PD20A-AAP-GGG-G | 1 | Threaded | 2.5 | 2.5 | No | |
| Ingersoll-Rand | SMP1000 | 1 | Threaded | 1.3 | 1.3 | No | SIZE: 1-1/4X4 3/4-4-S, WITH 3/4HP Motor @ 3450RPM |
| Ingersoll-Rand | SMP1000 | 1 | Threaded | 1.5 | 1.5 | No | SIZE: 1 1/4X4 2-4-S WITH 2HP MOTOR @ 3450RPM |
| Ingersoll-Rand | SMP1000 | 1 | Threaded | 1.5 | 1.5 | No | SIZE: 1 1/4X4 1-4-S WITH 1HP MOTOR @ 3540RPM |
| Ingersoll-Rand | SMP1000 | 1 | Threaded | 1.5 | 1.5 | No | SIZE: 1 1/4X4 1-4-S WITH 1HP MOTOR @ 3450RPM |
| Ingersoll-Rand | SMP1000 | 1 | Threaded | 1.5 | 1.5 | No | SIZE: 1 1/4X4 2-4-S |
| Ingersoll-Rand | SMP1000 | 1 | Threaded | 1.5 | 1.5 | No | SIZE: 1 1/4X4 1-4-S WITH 1/2HP MOTOR @ 1725RPM: 1PH: 6HZ: 115V: FHP LEESON: WASH GUARD SST MOTOR: C6617WK14: CAT#: 191475.00 |
| Ingersoll-Rand | SMP1000 | 1 | Threaded | 1.8 | 1.8 | No | SIZE: 1 1/2 X 3 1/4-3-4-S WITH 1/4HP MOTOR @ 1725RPM |
| Ingersoll-Rand | 1.25X1.25X4S 1000 | 1 | Threaded | 1.3 | 1.0 | No | Motor 2HP @ 3450RPM |
| Ingersoll-Rand | 2x1.5x5S 2000 | 1 | Threaded | 1.3 | 2.3 | No | MOTOR: 3HP @ 3460RPM |
| Isochem | GMC4-ADT-TTFXGG | 1 | Threaded | 0.5 | 0.5 | No | |
| Liquiflo | 311FS6333U | 1 | Threaded | | | No | |
| Liquiflo | 35FS6633T00000 | 1 | Threaded | 0.8 | 0.8 | No | PACKAGED WITH 1/2HP EMERSON G638 DC MOTOR @ 1750ROM, CATALOG#: WC0502, FRAME: 56C, SYNCROGEAR GEAR BOX @ 6.200:1 RATIO, TYPE GDP, FRAME 5, MAX 5HP INPUT |
| Liquiflo | 311FS6333T00000 | 1 | Threaded | | | No | |
| Liquiflo | 39FS6333U00000 | 1 | Threaded | | | No | |
| Liquiflo | 37FS1833L | 1 | Threaded | | | No | |
| Tuthill | GG130I | 2 | Flanged | | | Yes | W/FALK GEAR 1.82:1, 15HP MOTOR |
| Worthington | 1.5GRM | 1 | Threaded | | | No | |
| Worthington | 2.5GRM | 1 | Flanged | 2.5 | 2.5 | No | |
| Worthington | 2GAU | 1 | Threaded | | | Yes | |
| Worthington | 2GRL | 1 | Flanged | | | No | |
| Worthington | 4GAFTM | 1 | Threaded | | | No | FLANGE MOUNTED |
| Worthington | 8278 | 1 | Flanged | 2.5 | 2.5 | No | SIZE/TYPE: 2.5 GRW CI |
| Worthington | Please call | 1 | Flanged | 2.0 | 2.0 | No | |
| Worthington | Please call | 1 | Flanged | 4.0 | 4.0 | No | SPARE SHAFF AND IMPELLAR |
| Worthington | Please call | 1 | Flanged | | | No | |