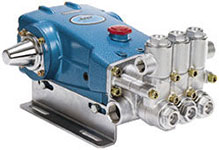 Piston pumps and plunger pumps are reciprocating pumps that use a plunger or piston to move media through a cylindrical chamber. The plunger or piston is actuated by a steam powered, pneumatic, hydraulic, or electric drive. Piston pumps and plunger pumps are also called well service pumps, high pressure pumps, or high viscosity pumps.
Piston pumps and plunger pumps use a cylindrical mechanism to create a reciprocating motion along an axis, which then builds pressure in a cylinder or working barrel to force gas or fluid through the pump. The pressure in the chamber actuates the valves at both the suction and discharge points. Plunger pumps are used in applications that could range from 70 to 2070 bars. Piston pumps are used in lower pressure applications.
Plunger/Piston Pumps In-Stock:
Call (844) 800-7867 or sales@generalpumpandmachinery.com for price and availability!


| Manufacturer | Model | Condition | Qty | Port | Material |
| --- | --- | --- | --- | --- | --- |
| Cat Pump | 2530 | Used | 1 | Threaded | Stainless Steel |
| Cat Pump | 2DX20E | New Surplus | 1 | Threaded | |
| General Pump | T721 | Used | 1 | Threaded | |
| General Pump | T731 | Used | 1 | Threaded | |
| General Pump | T9731 | Used | 1 | Threaded | |
| Cat Pump | 2520 | USED | 1 | Threaded | |